If you've been ignoring the leaking toilet in your bathroom, it's time to give our professional plumbers in Central Florida a call.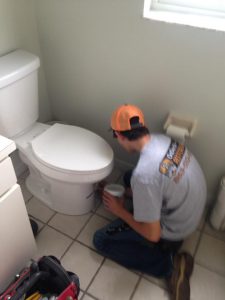 Leaking Toilet in Central Florida – It's easy to ignore a leaking toilet if it doesn't get in the way of using it on a daily basis. While it might not seem that the leaking toilet in your bathroom is that big of a deal, at On-Deck Plumbing, we want you to know that the leak is cause for concern and should be looked at by one of our plumbers right away. Not only will you continue to waste water if you ignore the problem, but the leak could be indicative of a more serious plumbing issue that will only get progressively worse.
When your toilet starts to leak, it can be hard to identify exactly what's causing the leak, since there can be so many different causes. For example, your toilet might be leaking because its washers and bolts have become worn down, the pipes have become corroded in certain places, or the tank is cracked. Thanks to our highly qualified, experienced team members, we'll be able to figure out what's going on and determine how to fix the problem in hardly any time at all.
While this isn't always the case, some leaking toilets need to be replaced. If we determine that replacement is your best option, we can take care of the replacement for you from start to finish. All you need to do is sit back, relax, and know the installation is in good hands.
Stop ignoring the leaking toilet in your bathroom and give us a call at On-Deck Plumbing! Remember, we're always ready and waiting to help you out in Central Florida.
---
At On-Deck Plumbing, we can help if you have a problem with a leaking toilet in Lakeland, Brandon, Plant City, or surrounding areas in Central Florida.