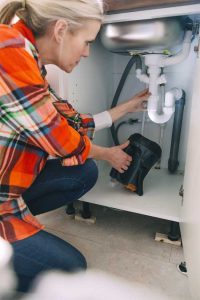 When it comes to your plumbing, you want everything in your home to work perfectly. After all, nearly every daily routine in your home is impacted by residential plumbing. There are a few things you can do to make sure your home stays in tip-top shape when it comes to its plumbing.
The best way to avoid residential plumbing problems is preventative maintenance. This means when you see a minor problem in your home, fix it as soon as possible! A good example of this is faucet repair. Faucets show evidence of daily wear and tear from repeated use.
Most leaking faucets can be fixed by installing a new O-ring or tightening a nut. It is a good idea to tackle this type of problem quickly so it does not turn into a larger leak. A repair like this is an easy routine for an experienced plumber.
You should also keep an eye out for leaks in your home. These may be coming from sinks or showerheads, or even from leaky toilets. When you see evidence of a leak in your residential plumbing, tackle it right away. When you call a local plumber to repair these types of leaks, the plumber can also check for other problems you may not have noticed. This is a helpful part of preventative plumbing maintenance in your home.
Another problem to pay attention to is a slow drain. If you notice a drain in your kitchen or a bathroom fixture is not draining as quickly as usual, this is typically evidence of a clogged drain. Talk to a residential plumber as soon as this begins. The plumber will be able to unblock the drain, so you don't have to deal with major backups and water damage in your home as the blockage gets worse.
Remember, paying attention to residential plumbing problems when they are small can help you avoid bigger, more expensive plumbing repairs.